The University of Chicago Medicine
"The Microbiome and Cerebral Cavernous Malformations"
The Knapp Center for Biomedical Discovery
Friday May 4, 2018
4:00 - 5:00 PM
Mark L. Kahn, MD
Cooper-McLure Professor of Medicine
Division of Cardiovascular Medicine
University of Pennsylvania
2018 Translational Neuroscience Symposium Program
Welcome Message from H.E. Mohamad Safadi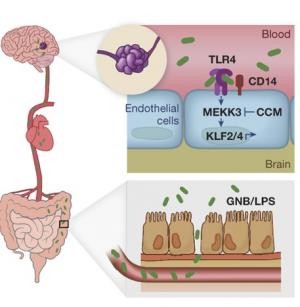 Professor Mark Kahn is a practicing cardiologist in the Division of Cardiovascular Medicine at the University of Pennsylvania. He has won many prestigious awards including the Judah Folkman Award in Vascular Biology from the North American Vascular Biology Organization, and he holds the Cooper-McClure Chair in Medicine. He is widely recognized for contributions in the field of cardiovascular development and function. He has elegantly shown that molecular signals which mediate the heart's development in the embryo, can also lead to the formation brain blood vessel abnormalities later in life. Professor Kahn has been a mentor to many outstanding students and postdoctoral trainees in his laboratory, who have become highly successful independent scientists and physician-scientists. He is celebrated as the 2018 Safadi Lecturer, for discoveries linking cardiac molecular mechanisms, the gut microbiome, and hemorrhagic brain disease.